Malta's beach soccer team is making history, as they're currently slated to fly to Moldova to participate in the European Beach Soccer League 2022. This is the first time that the Malta Beach Soccer Team will participate in an international competition. It marks an opportunity to broaden the interest in the sport among Malta's youth, particularly with the support of new sponsors. Nectar Ltd. is sponsoring the Men's National Beach Soccer Team through Nestle Ice Cream, in a partnership that aims to elevate the profile of the sport and the involved parties.
Coach Marco Casarsa is the proud leader of the Men's Beach Soccer Team, and he'll be leading them forward to compete in League B Group A of the upcoming event. The beginning of the event will entail playing three games in three days before placing matches during the following weekend. First up will be the team of the host nation, Moldova, with games against Romania and England to follow.
It's bound to be a challenge, but Marco Casarsa said that the team is aware of this and has prepared diligently in the past weeks. He had the following praise for the effort they've put into preparation:
"The boys have worked really hard, showed a great attitude in the four stages (training camps) conducted that included in-depth drills at times, to be well prepared for these tough matches coming up."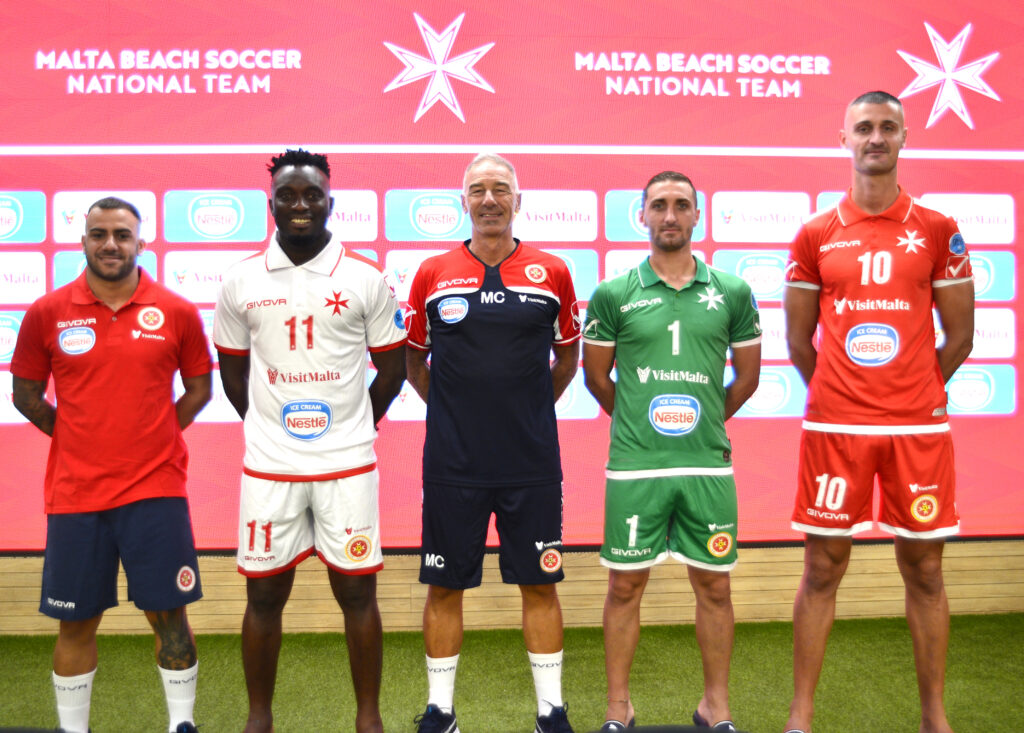 He went on to mention that the team are always in great shape, physically as individuals as well as in their ability to work as a team. While it took time to reach their current level, he believes their efforts have paid off and that the team is confident in pursuing a positive result at the competition.
Casarsa did concede that there's a major gap between domestic matches and pan-European events, particularly the demanding schedule of three matches in three days. Nonetheless, he has faith that the team is prepared psychologically to handle the challenge, make the most of the opportunity, and build a strong foundation for the future of beach soccer in Malta.
Vice President of the Malta FA Dr. Paris and Head of Beach Soccer Mark Marlow stated that Beach Soccer is a valuable part of football that they want to promote within Malta, while echoing Casarsa's sentiment about the preparedness and hard work of the team. The two leaders also expressed appreciation for the sponsors, Nectar Ltd. and Nestle Ice Cream.
Joe Cutajar, Head of Marketing at Nectar, emphasised several points surrounding the sponsorship. He expressed pride in the company's commitment to social responsibility and the integral part it is playing in the Beach Soccer revival, going on to say:
"Having contributed towards the development of this game for the last three years through the sponsorship of the national beach soccer league, Nectar is now proud to embrace the National team by means of this three-year sponsorship agreement. Nectar, Nestle Ice Cream, and the Malta FA are all united in their commitment to make beach soccer a staple of the community."
Back to News