Charles Abela
1952 - 2010
Founder of Nectar
Charles Abela, one of the original Nectar's founders had the character of a true leader. Anyone who knew Charles would describe him as strong minded, determined and a wise decision maker.
Mosta born Charles Abela started Nectar from humble beginnings together with partners in 1991. Previously Charles had spent over 20 years as wholesaler in the tobacco and confectionary sector, where he gained valuable market experience. By 1997 he took full ownership of the company and in a relatively short time under his able direction, Nectar thrived and prospered into a foreword looking young company. His four children are today the present Nectar Directors.
Also a keen sportsman Charles gave his share in the local village football club where he was also elected president in 1999 and under his leadership the club reached new heights. The home ground of Mosta FC was named Charles Abela Memorial Stadium for his endless work and perseverance for the successful implementation of this project.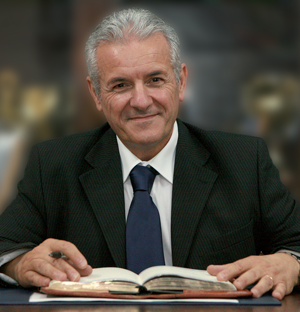 Our Origins and Milestones
A highly respected, family-owned and run Company, Nectar takes pride in an extensive portfolio of food, beverage and confectionery products, widely stocked in over 3,100 retail clients including all leading supermarkets, hotels, restaurants, bars, groceries, canteens, pharmacies and cinemas amongst other outlets.
1997: Abela family takeover
In 1997, the Abela family bought over the full shareholding of the company with the aim of further developing and managing as a family-owned company run by directors Mr Charles Abela and his two sons Roderick and Mario. This move triggered further growth and enabled the company to embark on an expansion programme.
2003: Consolidated Headquarters
To accommodate its exceptional growth in 2003, the company relocated to new and centralized premises situated in Ta' Qali, close to the historic and picturesque old capital city of Malta – Mdina. The new building, which incorporates modern offices and warehousing facilities, is equipped with latest state-of-the-art technology to meet the requirements of today's fast-changing business world.
2003: Sweetsource Acquisition
Later during 2003, Nectar acquired Sweetsource Limited, previously a competitor in the same segment which imported and supplied sweet and salty snacks and confectionery products.
Through its acquisition by the shareholders of Nectar, Sweetsource came back to life and from near-bankruptcy to a thriving company. The new Directors took immediate steps to correct its strategy by implementing their proven formula. The first critical steps were to gradually eliminate loss leading branded products already distributed by other local agents, and streamline the Company's portfolio to better concentrate on marketing its exclusive brands.
The impact of the new strategies produced instant results. With the merger of Administration, Warehousing, Marketing and Finance Departments, and the implementation of all IT processes and systems, a synergy was created to rapidly boost Sweetsource's efficiency.
2005: ISO Certification
Huge effort and work was continuously being done on systems and procedures while the workforce was consistently growing year on year. The need for official recognition for all this work, plus the need to self impose standards of the highest quality across the whole growing organisation was necessary. An experienced British consultant was hired and helped Nectar to draft it first Quality Manual and implement the quality system in line with the ISO standard requirements. Nectar already had detailed procedures and discipline in its operations so the process was quite a straightforward one. The company decided to engage a foreign experienced certification company BVQI UK to audit the company. Nectar got fully certified immediately after the first audit and has been recertified ever since.
2006: Wrigley Division
In 2006, the Wrigley Division was established with the aim of consolidating the strong market share already enjoyed by Wrigley products; more popularly known in Malta as Orbit chewing gum. Following the success story of Sweetsource running as a separate sales team, the time had come to dedicate further resources to Orbit which also required focused sales and specialised merchandising work. Since then Wrigley merged with Mars International and eventually the confectionery products Skittles and Starburst were included within this team's portfolio to become Wrigley-Mars Confectionery Division.
2010: NectarActive™ Market Navigator
After having pioneered one of Malta's first PDA Sales ordering system in 2000, it was now time to take this primary sales tool to a totally new and higher dimension. Nectar embarked on a very ambitious project: that of designing a totally custom made CRM software using high end tablets as a unique tool for its salesforce to present the company's portfolio of brands to customers, while providing them with various in-built tools in the system, to assist the salesreps and customers in their day-to-day selling process. The system, being new, proved in the end to be a very successful project and set a new benchmark for other distributors to try and emulate the same system. The unique way it was built, intrinsically connected the large databases of data developed over the years and ensured that the system remained successful and unparalleled to this date.
2012: Premises Extension
In 2012 the company acquired a large tract of adjacent land with the scope of enlarging its dry, frozen and chilled warehousing facilities that were until then reaching full capacity. This land extension was equivalent to 1700sqm bringing up the total land footprint close to 5000sqm in total. Part of this project involved the building of a state of the art freezer with an innovative moving rack system to house its growing frozen products segment.
2012: Food Service Division
In the same year the company officially established its food service division with the specific task of serving exclusively HoReCa customers with an evolved range of products more tailored to this category of clients. For a number of years this department was to fuel the main company growth and proved that Nectar's strategy in this respect was the right one. Based on the successful results obtained through this division the company continued to invest further in new brands and product categories to further enhance this division's potential.
2013: Nestle Frozen Products
Soon after having taken the bold decision to embark on an extension project, an opportunity developed that of taking over the frozen Nestle brands: Nestle Ice Cream, Antica Gelateria Del Corso and Buitoni. A new vansale division was setup and have since then continued to successful develop these brands.
2015: Calleja Fisheries Acquisition
After several months of discussions and negotiations Nectar reached an agreement to take over Calleja Fisheries as from June 2015. Calleja Fisheries had been operating within the fish sector for more than 10 years, during which it grew significantly thanks to the accumulated expertise in the supply of fresh and frozen, local and imported fish and fish products. The company, which is currently based in Marsa, also has production, processing and export licenses to deal in fish products. The introduction of Calleja Fisheries within Nectar's portfolio consolidates its position in the market especially in the food service segment by becoming ever more relevant to customers in this category.
2016: 25th Anniversary
n 2016 Nectar celebrates 25 years of doing business with a number of events to mark this occasion.
During this year, the Directors made a decision to merge all the operating companies: Nectar, Sweetsource and Calleja Fisheries under one Nectar umbrella.
The company also embarked on a rebranding process by launching a new evolved logo that is more fresh and lively for today's environment. As part of the rebranding process the company re wrapped all the company vehicles, revamped the website, and launched new uniforms.
2017: Nectar appointed distributors for Magro Brothers' brands
Magro Brothers (Foods) limited entrusted Nectar with the selling and distribution of the ever so popular Three Hills and Mayor Brands, in addition to Tomafina, Jolly and Pinto's Pride. Magro Brothers' pristine reputation for the production and provision of quality foods was combined with the strong and extensive sales and distribution network Nectar developed along the years. This relationship further strengthened both companies' footprint on the local market.
2018: Sole direct distribution and marketing of Nestlé Ice Cream and Antica Gelateria
Following the international merger between Nestlé and R&R Foods, a new international company called Froneri was formed. Subsequent to the necessary evaluations, Froneri has decided to continue its relationship with Nectar, which until 2017 was the distributor of Nestlé Malta for these brands. As from January 2018, Nectar commenced handling directly the full operation in Malta, including those responsibilities formerly handled by Nestlé Malta.
Nectar today
Nectar today is considered one of the most prominent Maltese private sector companies, standing out as a family-owned company run by the four directors, sons and daughter of the late Charles Abela. Nectar continues to base its policies on a long-term strategy in terms of logistics, facilities and personnel as a means for further growth. It is this raison d'être that has enabled Nectar to make huge strides in a highly competitive marketplace, surpassing performances by larger and longer established companies.